About Jennifer Titus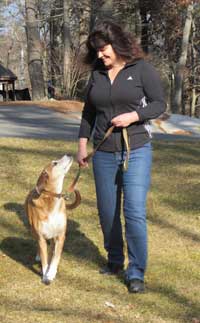 I am a life long lover of animals and nature. I hold a Bachelor's Degree in Special Education, with an emphasis on Behavior Modification, and a Master's Degree in Education. I taught elementary school for years, before bringing my background and skillset to my other passion: dog training. I studied Animal Behavior at the college level, completed an apprenticeship in professional dog training, ran a dog hiking company and provided training services to my local animal shelter before opening my own board and train and consulting business, HAPPYDOG, in 2011. I continue my education in Animal Learning Theory, Applied Behavior Analysis and Client Counseling through the prestigious Academy for Dog Trainers. I live in the northeast United States with my husband and our three sons, and, until he recently passed, my beloved Rhodesian Ridgeback/Labrador Retriever mix Sporty, to whom this site is dedicated.
Why I Created This Site.
Soon after I began to do behavior consulting, my caseload was filled with reactive dogs…dogs who barked, lunged, growled and pulled on leash, and their exhausted, exasperated owners. Many of the people who called me recounted that their dog had already been seen by another trainer (or two or three), who had recommended shock or prong collars and harsh leash corrections each time the dog was reactive. Invariably they would tell me that method had seemed to work at first, but eventually had only made the situation worse. Others, without access to a positive trainer in their area, would say they'd read books, and even signed up for expensive seminars, which either were confusing and ineffective, or too hard for them to implement and organize into a potent behavior modification plan. Many of these people would end up crying by the end of our phone call, and I felt obligated to help them and their dogs. Although using the humane CARE method is very effective, I could only reach one dog at a time, and was being asked to travel farther and farther for consults. So I created this website as a resource for owners and other positive trainers as a way to access this time honored, effective protocol in a concise, comprehensive, step by step format. It is my sincere hope that The CARE Protocol for Reactive Dogs will make life better for reactive dogs and their people.