Consider the dog's history
If your dog is reactive to other dogs, Consider your dog's play/socialization history and decide which type of reactivity your dog is displaying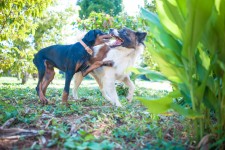 Is he usually fine offleash with other dogs? If so, he is probably a frustrated greeter. In this case, train some behaviors (DRI) that will allow you and your dog to pass calmly by others on a walk. You may skip right to the R (Reinforce operant behaviors) of CAREmethod. How-tos for training useful DRIs can be found in the Resources section. Begin practicing DRIs right away. Start in your living room, and move gradually to practicing in more distracting environments. Work up to practicing on walks as you pass other dogs, or practice on leash right after an offleash play session with other dogs, particularly the one(s) he just played with.  You do not need to do systematic DS/CC.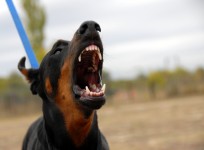 If your dog is
not
good with other dogs offleash, implement the full 3-phase CARE Protocol. If your dog is reactive to strangers, men, children, scooters, bicycles etc., or any combination of things, you should follow the full 3-phase CARE Protocol. 
Consult
with a veterinarian regarding medication if the reactivity is moderate to severe, and/or if the reactivity reflects a sudden change in behavior. 
Analyze and Arrange
You will need to analyze 3 things:
Your dog's triggers
Your dog's threshold
An appropriate location for DS/CC
Analyze and identify all aspects of your dog's triggers. For example, if your dog is reactive to strangers, it may just be approaching strangers that set her off, or perhaps it is only men and/or anyone carrying objects, such as briefcases, packages or backpacks. You will need this information as you analyze and decide upon an appropriate location to begin DS/CC, and how to position yourself accordingly. If your dog is reactive in the car, you may need to cover the windows or crate her in the car in order to keep her under threshold.
You are about to begin a respite from triggers, and later you will be creating an exact one-to-one contingency between triggers and treats. Now is the time to determine your dog's threshold, as you will need to keep both the respite period and the one-to-one contingency sacrosanct. Your dog's threshold is the place where she can see the trigger and is fine. She should show no signs of reactivity- no fear, no anxiety, no tenseness. A quick way of determining this is, if she will take treats in a relaxed way, she is under threshold. Eating is a sign that the parasympathetic nervous system is in play, and therefore your dog is not in a reactive state. If your dog begins to get "pinchy" with her mouth while taking treats, she is above the threshold for successful DS/CC and becoming reactive, and you should back up or otherwise reduce the intensity of the trigger.
You will need to analyze and scout out appropriate locations where your dog can remain under threshold, and encounter trigger(s) at low intensity for short intervals. For example; work inside your car at an appropriate distance from a big box petstore, or stand at a distance from a walking trail in a local park. If your town has a dogpark, you might be able to work in the parking lot at a distance and angle that allows your dog to view dogs as they emerge from and return to their vehicles. All this depends on your dog's threshold. You may need to engage a friend and their dog to walk in and out of view across an entire football field! Whatever location you choose, you should be respectful of other dogs and people. It is your responsibility to keep all dogs and people safe while you work with your dog. If your dog has bitten a person or another dog, please use a muzzle.
Distance is usually an important aspect of the trigger. You may find that your dog's threshold is at a great distance from the trigger. Sometimes it is not feasible to increase distance from the trigger outside. If your dog's threshold is at such a great distance, you may need to come up with creative ways to present the trigger at lesser intensity. Working inside your car is one way to do that. Using a stuffed toy dog is another you might consider. Arranging setups with a friend and their dog is a great way to keep control of the presentation of the trigger.
Arrange DS/CC sessions with a professional trainer, if at all possible. Be certain you are working with a force free trainer, and that they are following The CARE Protocol precisely. The use of aversives, particularly shock, prong, and choke collars is contraindicated for the treatment of reactivity. Articles and suggestions on how to find a positive trainer can be found in the Resources section.
Respite and Relaxation
Give your dog a respite from triggers. Cortisol is a hormone produced in the adrenal glands in response to stress and is responsible for activating the body's "fight or flight" response in stressful situations. Reactive episodes produce spikes in cortisol, which lingers in the brain, causing your dog to reach his reactivity threshold very quickly. It can take up to several weeks for cortisol to dissipate. It is recommended you avoid exposing your dog to triggers for a period of time. For a week or two, try to walk during off hours, curtail walks to short potty breaks, or drive your dog to a quiet area for a week or so. Implement some of the enrichment ideas in the Resources section to exercise and engage your dog.
You can also make up for reduced walks by tiring your dog out with training. This is the time to begin training DRI behaviors. You will find instructions for teaching these behaviors in the Resources section. The behaviors needed are:
Sit
Watch
Walking Watch
Find It
Let's Go
Relaxation and self-control behaviors can be taught at this time, as well. You will find instructions for teaching them in the Resources section. Behaviors recommended are:
Relax on Mat
Sit For Leash/Harness
Wait At Door
Wait To Exit Car
 Equipment
A comfortable, well-fitted harness is the one essential piece of equipment you must use. Get a front clip or double clip harness. You may need to condition your dog to the harness (or other equipment) if your dog is unused to this piece of equipment. There is a video on conditioning your dog to equipment in the Resources section, as well as a list of recommended harnesses.
Other items you may find helpful are a double ended leash, window film, a muzzle, a martingale collar, a head collar, a car crate, – whichever items are needed in your particular situation to keep your dog secure and under threshold.